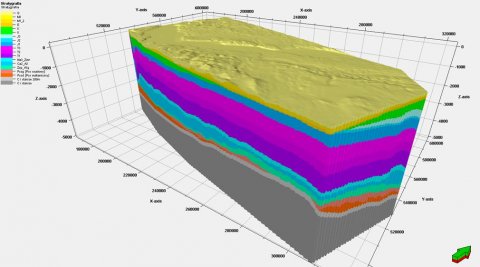 Project manager:
Ewa Szynkaruk
Contracting:
Ministry of Environment
Finance:
National Fund for Environmental Protection and Water Management
Model geologiczny bloku Gorzowa przedstawia budowę tego obszaru od głębokości ok. 5000 m pod poziomem morza do powierzchni terenu – czyli od podłoża basenu sedymentacyjnego (karbon przystropowy) do czwartorzędu. Model wykonany został na podstawie większości danych geologicznych, zgromadzonych dotychczas na obszarze bloku Gorzowa. Były to 23 zdjęcia sejsmiczne 3D o łącznej powierzchni ponad 5,5 tys. km2, ponad tysiąc linii sejsmicznych 2D, a także cyfrowe profilowania geofizyki otworowej z 300 głębokich (ponad 500 m) odwiertów z obszaru bloku. Pomocniczo wykorzystano również istniejącą kartografię geologiczną i dane grawimetryczne. Dotychczasowe rozpoznanie geologiczne, skupiające się przede wszystkim na cechsztyńskich poziomach złożowych ropy i gazu, zostało dzięki temu istotnie wzbogacone o praktycznie nieistniejące do tej pory w takim zakresie szczegółowe rozpoznanie geologii triasu, jury, kredy i kenozoiku.